(Last Updated On: September 23, 2023)
What are some of the interesting ancient Indus Valley civilization facts, and achievements? The Indus Valley Civilization, also known as the Harappan Civilization or the Indus River Valley Civilization, stands as one of the earliest and most intriguing civilizations in human history. Flourishing in the vast expanse surrounding the Indus River basin and its tributaries, it encompassed the regions we now recognize as present-day Pakistan and northwest India. Within India itself, the largest Harappan site, Rakhigarhi, is nestled in Haryana, while the second-largest, Dholavira, is situated in the state of Gujarat.
At the core of this civilization were remarkable advancements, including the construction of meticulously planned cities employing innovative brickwork techniques and a sophisticated drainage system. It is essential to delve into the unique features and geographical extent of this ancient civilization during its pinnacle, which remarkably stretched as far as Egypt and Mesopotamia.
Understanding the Decline of the Indus Valley Civilization
The decline of the Indus Valley Civilization is a subject of considerable scholarly debate and intrigue. Several factors have been proposed as contributing to its eventual decline, shedding light on the complexity of its downfall. Facts And Artefacts Indus Valley Civilis: Cooke, Tim
1. Shifting River Courses and Natural Disasters
One prevailing theory attributes the decline to dramatic shifts in the courses of rivers, particularly the Indus and its tributaries. These shifts disrupted the stable agricultural practices that had sustained the civilization for centuries. Additionally, natural disasters such as prolonged droughts and devastating floods may have exerted further pressure on the society's ability to thrive and adapt.
2. Decline in Trade
Trade played a pivotal role in the prosperity of the Indus Valley Civilization. At its zenith, it maintained significant trade links with distant regions, notably Egypt and Mesopotamia. However, the deterioration of these trade connections, for reasons that are still not entirely clear, could have contributed to economic challenges and a weakening of the civilization's vitality.
3. Possible Conflicts with the Aryan Civilization
Some scholars speculate that the Indus Valley Civilization faced external threats from the Aryan Civilization, which was migrating into the Indian subcontinent. These potential conflicts, whether through conquest or assimilation, might have disrupted the established social and political order, hastening the civilization's decline.
In summary, the decline of the Indus Valley Civilization remains a multifaceted historical puzzle, with shifting river courses, natural calamities, dwindling trade networks, and possible conflicts with newcomers all vying for prominence as contributing factors. It is a testament to the intricate tapestry of human history and the ever-evolving dynamics of ancient civilizations.
30 Interesting Ancient Indus Valley Civilization Facts
According to archaeological research and radiocarbon dating, the origins of the Indus Valley Civilization can be traced back to a timeline spanning from 3300 to 1300 BCE. While human settlements along the Indus River's banks predated this period, it was during the Bronze Age that these communities truly evolved into organized, urban societies. Notably, the cities of Harappa and Mohenjo-Daro emerged as the paramount centers of the Indus Valley Civilization.
1. Parallels with Egyptian River Valley Civilization
Scholars have long been fascinated by the intriguing parallels between the Indus Valley Civilization and the Egyptian River Valley Civilization. These two ancient cultures flourished along the banks of mighty rivers, with the Indus Valley civilization centered around the Indus River and its tributaries, while the Egyptian civilization thrived along the Nile. Beyond their geographical similarities, these ancient societies exhibited comparable lifestyles and customs, shedding light on the profound influence of river-based ecosystems on the development of complex civilizations. This intriguing convergence of cultures along distinct river systems continues to be a subject of scholarly exploration.
2. Urban Diversity in the Indus Valley Civilization
Mohenjo-Daro, the largest site, and Allahdino, the smallest site, represent the intriguing urban diversity within the Indus Valley Civilization. This ancient civilization boasted a significant population, estimated to have surpassed five million people. Among its inhabitants, artisans and traders played pivotal roles in shaping the economic and social landscape. Remarkably, merchants held considerable wealth and wielded extra political powers, reflecting the unique socio-economic dynamics of the time.
3. Measurement and Metallurgy Advancements
The inhabitants of the Indus Valley Civilization demonstrated a remarkable level of precision in various fields. They accurately measured length, mass, and time, reflecting their advanced understanding of mathematical and scientific principles. Additionally, the civilization developed a system of uniform weights and measures, contributing to standardized trade and commerce. In the realm of metallurgy, these ancient people employed innovative techniques to produce materials such as lead, copper, tin, and bronze, further underscoring their technological prowess. The Complete Works of William Shakespeare
4. Thriving Harappan Ports and Engineering Marvels
During the era of the Harappan civilization, several significant ports played crucial roles in their trade and economy. Notable among these were Lothal, Balakot, Suktagendor, and Allahdin, with Lothal being a standout example. The engineering achievements of the Harappans were nothing short of remarkable, particularly showcased in the construction of intricate docks, as exemplified by the well-preserved remains found in Lothal. What's intriguing about this era is the absence of axles in the wheels used for transportation, suggesting an advanced understanding of engineering principles that differed from contemporary civilizations. Additionally, the presence of remarkably wide roads, such as those discovered in Mohenjo-Daro measuring an impressive 10.5 meters, underscores the civilization's meticulous urban planning and engineering prowess.
5. Religious and Ritualistic Aspects
While the Indus Valley Civilization remains enigmatic in many respects, researchers have gleaned some insights into their religious beliefs and rituals. Fertility deities appear to have held a central place in their pantheon, indicating the significance of agricultural practices and the role of nature in their lives. Religious activities were likely overseen by specialized priests, although the details of their rituals remain largely undisclosed. An intriguing facet of their spiritual life was the practice of ritualistic baths, which were integral to their religious ceremonies and purification rituals. Moreover, seals discovered from this era often depict individuals engaged in meditation and seated in a crossed-legged posture, providing intriguing glimpses into the meditative and contemplative aspects of their religious life, which continue to captivate the imagination of scholars and enthusiasts alike.
6. Innovative Town Planning
A distinctive hallmark of the Indus Valley Civilization was its meticulous town planning. Settlements were carefully laid out in a rectangular pattern, showcasing a mastery of urban design. Most houses in these towns were two-story structures characterized by spacious interiors, providing insights into the architectural sophistication of the era. Notably, the organization of these cities was characterized by well-built granaries, imposing citadels, burial grounds, and bathing platforms, each serving essential functions within the urban fabric.
7. Ancient Bricks in British Railway Construction
An intriguing historical anecdote from the British colonial era in India reveals an unexpected connection between the Harappan civilization and British railway construction. During the construction of a railway track stretching from Karachi to Lahore, British engineers encountered a shortage of construction materials. To address this shortage, they made an unusual choice by collecting bricks from the nearby ruins of Harappa, one of the major urban centers of the Indus Valley Civilization. Astonishingly, these bricks turned out to be approximately 4,000 years old, making the railway track an unwitting preserver of ancient artifacts. This unusual historical intersection highlights the endurance of the Harappan civilization's architectural legacy and its impact on subsequent developments in the region.
8. Organized Living in Dense Cities
One of the distinctive features of the Indus Valley Civilization was its ability to maintain a highly organized way of life despite the significant population density in its cities. This stands in stark contrast to the chaotic and haphazard urban centers of contemporary civilizations like those in Egypt and Mesopotamia. The secret behind this orderly existence lay in the systematic planning of their cities, a testament to their advanced urban planning and architectural prowess. This organization not only facilitated daily life but also contributed to the overall sustainability and resilience of their society, setting them apart as an advanced ancient civilization.
9. Pioneers of Planned Cities
The Indus Valley Civilization was an early pioneer in urban planning, boasting the world's first planned cities. Despite the Greek urban planner Hippodamus receiving credit for introducing the grid pattern in town planning in the 5th century BC, the Indus Valley cities predated this development. These cities were meticulously designed with streets intersecting at right angles, forming perfect right angles at junctions. The main streets ran north-south, while secondary streets followed an east-west direction. Streets in cities like Mohenjo-Daro were impressively wide, up to 10.5 meters, accommodating various activities, including markets.
10. Advanced Sanitation and Drainage Systems
The Harappan civilization is renowned for its advanced sanitation and drainage systems. They utilized flush toilets, efficiently managed wastewater, and had sophisticated freshwater channels leading to bathrooms. Streets were constructed with careful consideration of stormwater disposal, featuring channels along the streets and underground pipes. Moreover, the streets were paved with sun-dried or burnt bricks to facilitate the movement of ox-driven carts, showcasing their mastery in urban planning and infrastructure development.
11. Pioneers in Button-Making and Step-Wells
In the context of the Indus Valley civilization, their contributions to button-making and the construction of step-wells were groundbreaking achievements. While these innovations might not seem remarkable by today's standards, when considering the historical context, they shine as remarkable feats. During this ancient era, the pace of innovation was considerably slower compared to the rapid advancements seen since the Industrial Revolution. The buttons created by the Indus Valley people were fashioned from seashells, and some were intricately carved into various geometric shapes with holes for attaching threads. Notably, the oldest button discovered in Mohenjo-Daro dates back approximately 5000 years, showcasing their early craftsmanship. Evidence of step-wells in Mohenjo-Daro suggests their potential religious significance and hints at their influence on later architectural practices, notably in Buddhist and Jain structures.
12. Engineering Marvel: Artificial Dockyard at Lothal
Lothal, located in modern-day Gujarat, stands as a testament to the remarkable planning and engineering prowess of the Indus Valley civilization. The city's meticulously organized layout protected it from recurring floods, showcasing the foresight and skill of its ancient engineers. The city was divided into blocks, each elevated 1-2 meters above ground, with over 20 houses in each block. Such complexity highlights the advanced engineering capabilities of that era, making the construction of an artificial dockyard entirely plausible. Archaeologists discovered this artificial dock in 1954, marking the earliest known instance of such a structure. The dock likely connected the city to the Sabarmati River, earning it recognition as an "engineering feat of the highest order."
13. Precision in Measurement Techniques
The Indus Valley civilization demonstrated an impressive grasp of measurement, with precise devices for measuring length, weight, and time. They were among the earliest to employ measurement schemes systematically. Their measurement tools were exceptionally accurate, as evidenced by the discovery of ivory with divisions as small as 1.7mm, a remarkable achievement for the Bronze Age. Historians even speculate that some subdivisions reached an astonishing accuracy of 0.005 of an inch. Their weight measurement system followed a ratio of 5:2:1, with weights ranging from 0.05 to 500 units, bearing resemblance to the English imperial ounce.
14. Flourishing Artistic Expression
During the Indus Valley Civilization, a remarkable flourishing of art took place, leaving behind a rich archaeological record that provides a glimpse into the artistic achievements of this ancient society. The evidence of this artistic vitality can be seen through the excavation of an array of artifacts crafted from bronze, copper, and pottery. These artifacts reveal the skilled craftsmanship of the people of that era, showcasing their ability to work with various materials.
One of the most iconic artistic expressions from this period is the steatite seals. These seals are adorned with intricate animal figures, and the humpless bull or unicorn is a recurring motif. The level of detail and precision in these seals speaks to the creative genius of the Indus Valley Civilization. These artistic accomplishments not only demonstrate the aesthetic sensibilities of the time but also hint at the cultural depth and significance of art in the lives of its people. They provide a window into the artistic heritage that thrived in this ancient civilization, reflecting the creativity and imagination of its inhabitants.
15. Enigmatic Great Baths
A perplexing feature of the cities within the Indus Valley Civilization is the presence of great baths, structures that have intrigued scholars for generations. Despite extensive research and excavation, the exact purpose of these great baths remains a subject of ongoing debate among experts in the field of archaeology.
While the primary function of these enigmatic structures remains shrouded in mystery, there is a prevailing belief that they may have been utilized for religious bathing rituals. This hypothesis underscores the profound spiritual and religious dimensions in the lives of the people who inhabited the cities of the Indus Valley Civilization. The presence of these great baths raises questions about the religious practices and beliefs of this ancient society, highlighting the importance of spirituality in shaping their culture and daily lives. These structures serve as tangible reminders of the enduring fascination and intrigue that the Indus Valley Civilization continues to evoke.
16. Exquisite Craftsmanship and Metallurgy
The Indus Valley people exhibited extraordinary engineering and craftsmanship skills, rivaling modern standards. They pioneered metallurgical techniques, working with materials such as copper, bronze, tin, and lead. Archaeological finds have revealed sculptures, pottery, gold jewelry, and anatomically detailed figurines—testaments to their mastery of various crafts. Their expertise extended to shellworking, ceramics, agate, and satellite bead making. Remarkably, some of their jewelry designs continue to influence contemporary fashion.
Among their most intricate works are terracotta figures of dancing females with cylindrical limbs, created during 3000 BCE—an accomplishment deemed improbable for that era by historians. This underscores the exceptional artistic and technical abilities of the Indus Valley civilization.
17. Early Practice of Dentistry
Dentistry, often considered a modern practice, has roots dating back over 7000 years, with evidence of its use in the early Harappan period of the Indus Valley civilization. Archaeologists studying remains in Mehrgarh, Pakistan, uncovered indications of proto-dentistry in the early Harappan population. In 2006, researchers found drilled molar crowns in the remains of nine different adults, dating back 7500 to 9000 years. This ancient practice challenges the perception that dentistry is a recent development, highlighting the advanced knowledge and skills of the Indus Valley people.
18. Indus Valley: A Peaceful Paradise
The Indus Valley civilization was situated along the fertile plain of the Indus River, making it an ideal place to reside during its time. Abundant food supplies were assured, and the population thrived, reaching approximately 5 million people. Remarkably, this society is known for its peaceful nature, as archaeologists have not uncovered evidence of warfare, murder, or weapon use among the more than 1050 sites they investigated. This stands in stark contrast to other ancient civilizations, such as Ancient Egypt. The Indus Valley society enjoyed a peaceful and progressive existence, possessing everything they needed for their era, akin to a paradise.
19. Seals as Identifiers and Traders
The Indus Valley Civilization engaged in trade with Mesopotamia and Egypt, potentially utilizing wheel transport for commerce. They crafted seals used for identifying goods and clay tablets. These seals featured inscriptions in their own language, which remains undeciphered to this day. The seals often depicted a plethora of creatures, including animals, humans, and possibly deities. Notably, the Pashupati seal is the most famous, portraying a three-headed figure with buffalo horns between a tiger and a bull. Many scholars believe this to be an early representation of Lord Shiva, often associated with animal symbolism. The figure appears to be meditating or practicing yoga, shedding light on the spiritual dimensions of this ancient civilization.
20. Stages of Harappan Civilization
The Harappan Civilization, which is synonymous with the Indus Valley Civilization, can be categorized into three distinct stages, each offering valuable insights into the development and evolution of this ancient society. These stages are commonly referred to as Pre-Harappan, Harappan, and Post-Harappan, and they correspond to specific archaeological sites known as Rojde, Desalpur, and Surkotada, respectively.
Pre-Harappan Stage (Rojde): This stage represents the earliest phase of the Harappan Civilization and provides a glimpse into its formative years. The artifacts and structures found at Rojde reveal the initial stages of urbanization and the emergence of a complex society. It's a critical period for understanding the roots and early developments that paved the way for the mature Harappan phase.
Harappan Stage (Desalpur): The Harappan stage is perhaps the most well-known and extensively studied phase of the civilization. It is characterized by iconic urban centers and advanced infrastructure, including well-planned cities with grid-like street layouts, sophisticated drainage systems, and standardized weights and measures. This phase represents the peak of the civilization's achievements, with flourishing trade networks and distinctive seals.
Post-Harappan Stage (Surkotada): The post-Harappan phase marks a period of transition and decline in the Harappan Civilization. At sites like Surkotada, the archaeological record reveals changes in settlement patterns, possibly linked to environmental shifts or external factors. Understanding this phase sheds light on the reasons for the eventual decline of the once-mighty civilization and the shifts in the region's socio-economic dynamics.
Dividing the Harappan Civilization into these three stages helps archaeologists and historians trace its trajectory over time. It offers valuable insights into how this ancient society evolved, adapted to changing circumstances, and eventually faced challenges that led to its transformation and eventual decline. By examining these stages, we gain a more comprehensive understanding of the complexities and dynamics that shaped one of the world's earliest urban civilizations.
21. Advanced Sewerage Systems
The Indus Valley Civilization is renowned for its pioneering brick-lined sewers, representing an advanced approach to urban sanitation. Mohenjo-Daro stands out as a prominent example of this sophisticated sewerage system. Bricks used for construction adhered to a specific ratio, measuring 11 inches in length, 5.5 inches in width, and 2.75 inches in depth. This meticulous attention to urban infrastructure highlights the civilization's commitment to hygiene and urban planning.
22. Oldest in the World
Recent discoveries by scientists from IIT-Kharagpur and the Archaeological Survey of India (ASI) have challenged previous beliefs about the age of the Indus Valley civilization. It is now believed to be at least 8,000 years old, significantly older than the previously accepted age of 5,500 years. This groundbreaking revelation, published in the prestigious Nature journal on May 25, 2016, not only makes the Indus Valley civilization older than the Egyptian and Mesopotamian civilizations but also the oldest known civilization globally.
23. The Largest Among Ancient Civilizations
The Indus Valley Civilization stands out as the largest among the four ancient civilizations in terms of its geographical extent. Spanning approximately 1,260,000 square kilometers, it covered regions in present-day India, Pakistan, Afghanistan, and more. This civilization stretched from the Ghaggar-Hakra River Valley in the east to the Makran coast of Balochistan in the west, and from northeastern Afghanistan to Daimabad in Maharashtra in the south. If it were a modern country, it would rank 22nd in size, positioning itself between Niger and Angola.
24. Over 1056 Cities Discovered
Archaeological investigations have revealed a remarkable 1,056 Harappan cities and settlements, with 96 having undergone excavation. These urban centers are predominantly situated in the regions surrounding the Indus and Ghaggar-Hakra Rivers and their tributaries. Among the well-known urban cities are Dholavira, Rakhigarhi, Lothal, and Kalibangan, in addition to the renowned Harappa and Mohenjo-Daro.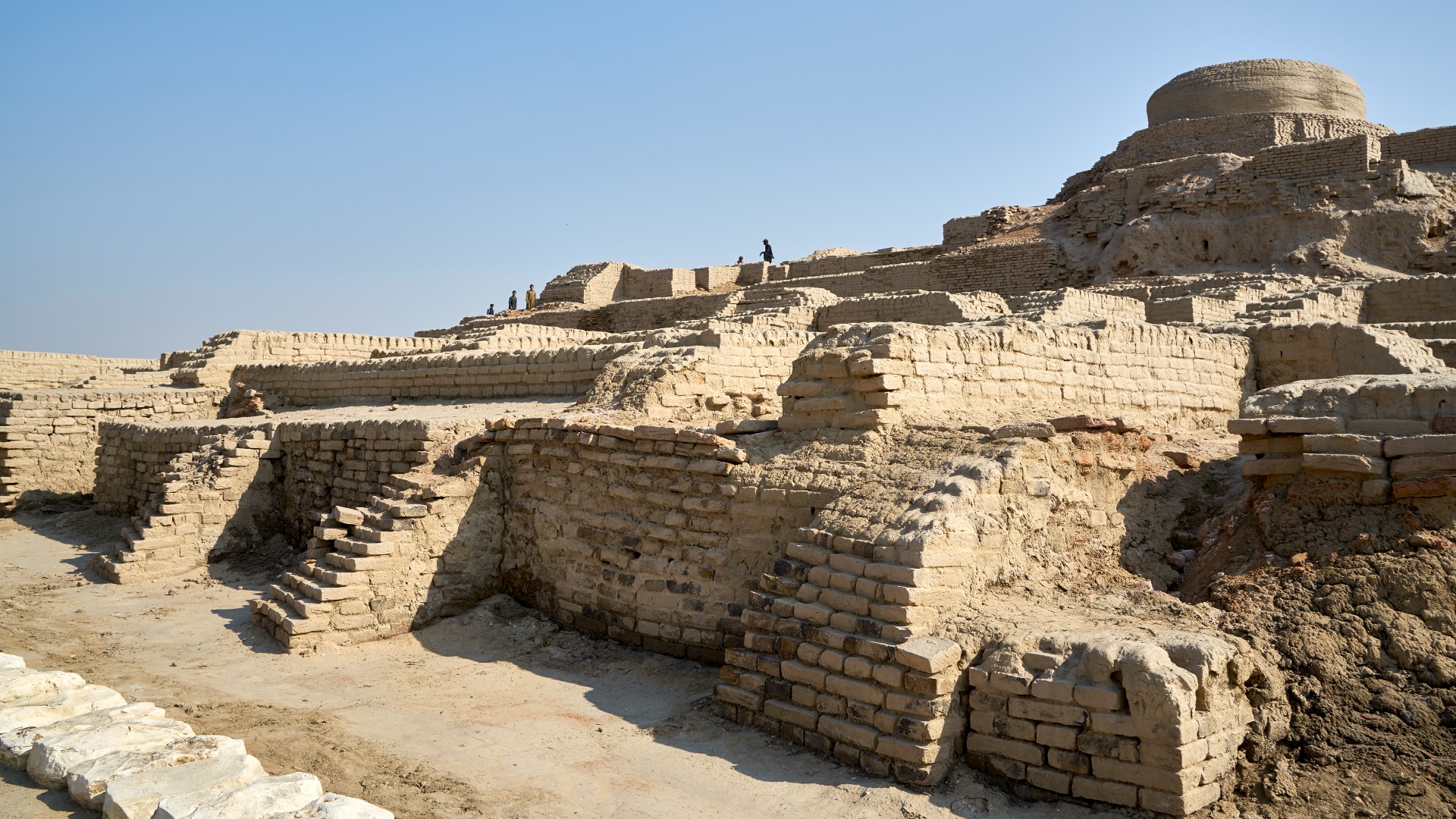 25. The Majority Resided in Unrecorded Villages
Archaeologists believe that a significant portion of the Indus Valley Civilization's population inhabited villages. Unfortunately, the absence of substantial evidence has made it challenging to decipher the living conditions, culture, and societal aspects of these villages. It is assumed that the residents constructed their dwellings using materials like mud or wood, which tend to deteriorate over time, leaving minimal traces.
26. Identity Naming Conundrum
The nomenclature of the Indus Valley Civilization remains a subject of debate among archaeologists. Initially, the settlements discovered along the Indus River led to the name "Indus Valley Civilization." However, it's noteworthy that only around 100 sites are found along the Indus and its tributaries, while over 500 sites exist along the Ghaggar-Hakra River, believed to be the ancient Saraswati River. This has led to suggestions like "Indus-Saraswati Civilization" and "Harappan Civilization," named after the first discovered city, Harappa.
27. Uniform Use of Standard-sized Burnt Bricks
During the Mature Harappa Period, the construction techniques of the Indus Valley Civilization were characterized by a meticulous reliance on uniformly-sized burnt bricks. These bricks were precisely crafted, measuring 7 x 14 x 28 cm for smaller applications and 10 x 20 x 40 cm for more substantial structures. The civilization's architects exhibited a keen understanding of proportion, maintaining a consistent brick size ratio of 1:2:4. This uniformity not only showcased their engineering precision but also facilitated efficient construction practices. Furthermore, the intriguing discovery of rock-cut structures in Dholavira highlights the civilization's versatility in the selection of building materials.
28. The Elusive Rulers of the Indus Valley Civilization
One of the most perplexing aspects of the Indus Valley Civilization is the absence of any recorded rulers or centralized authority figures. Remarkably, there is no concrete evidence of a governing system, which challenges the notion of how such a meticulously organized and systematic society could exist without a discernible central control. The closest semblance to a figurehead is a terracotta sculpture believed to depict a priest-king, yet this remains a matter of speculation. The enigmatic governance structure continues to intrigue scholars.
29. The Lack of Monumental Structures
Another striking peculiarity is the conspicuous absence of monumental structures, such as palaces or temples, in the Indus Valley cities. This absence diverges from the architectural conventions of many early civilizations, where temples or palaces were central features. While public buildings like the Great Baths and granaries are evident, no structure can be unequivocally linked to a palace or temple. This anomaly has led some scholars to hypothesize that the Indus Valley cities may have functioned as egalitarian societies, devoid of hierarchical centers of power.
30. The Absence of Evidence of Warfare
An intriguing aspect of the Indus Valley Civilization is the conspicuous absence of any imagery or evidence related to war or military activities. Unlike Mesopotamian city-states that frequently engaged in warfare and vividly depicted battles in their art and writings, the Indus Valley cities exhibit no such war-related imagery. This observation has led to speculation that they may have been a peaceful society, further mystifying the nature of their interactions with neighboring regions.
31. The Veiled Political and Religious Structures
Remarkably little is known about the political and religious hierarchy of the Indus Valley Civilization. The identity of their deities, modes of worship, and the political structure that governed their cities remain subjects of debate and uncertainty. Despite numerous hypotheses and theories, definitive conclusions regarding their religious beliefs and political organization remain elusive. The scarcity of historical evidence in these domains perpetuates the captivating mystery surrounding this ancient civilization.
32. Proficiency in Metallurgy
The inhabitants of the Indus Valley displayed remarkable expertise in metallurgy during their era. Their knowledge encompassed the utilization of cutting-edge techniques to manipulate metals like lead, copper, tin, and bronze. These meticulously crafted metal products became highly sought-after commodities in the international trade networks of the time, making the Indus Valley an influential hub of metalworking and trade.
33. Pioneers in Dentistry
Recent archaeological discoveries have shed light on the dental practices of the Indus Valley Civilization. Examination of remains from Mehrgarh, Pakistan, revealed evidence of proto-dentistry dating back to the early Harappan periods. In a groundbreaking revelation in 2006, researchers declared that they had uncovered the earliest evidence of dental drilling in a living person, pinpointing this practice to Mehrgarh between 5,500 BC and 7,000 BC. This suggests a tradition of early dentistry in the agricultural communities of the region, marking the Indus Valley people as pioneers in oral healthcare.
34. Precision in Measurements
The Harappan people developed a system of measurement that was exceptionally precise for its time. Archaeologists have unearthed stone cubes designed as weights, following a ratio of 5:2:1. These weights ranged from 0.05 to 500 units, and their values did not align with existing systems in Egypt or Mesopotamia. This indicates the development of a unique measurement system indigenous to the Indus Valley. An ivory scale discovered in Lothal, Gujarat, demonstrated a remarkable smallest division of approximately 1.704 mm, setting a record for Bronze Age measuring instruments.
35. Peak Population of Over 5 Million
At the zenith of its existence, the Indus Valley Civilization boasted a population that exceeded five million inhabitants. To put this into perspective, this demographic surpassed the present-day population of a modern nation like New Zealand. What makes this demographic milestone even more intriguing is the composition of this population. A significant portion of the inhabitants were artisans and traders, reflecting a diverse and thriving society engaged in various economic activities. This substantial population was supported by the civilization's advanced infrastructure, agriculture, and trade networks, highlighting the sophistication of their society.
36. Initial Assumption of Child-Centric Society
Early excavations of Indus Valley archaeological sites led to a fascinating initial assumption – that the civilization might have been child-centric due to the abundance of artifacts related to play and recreation. Archaeologists discovered a plethora of toys, including flat stones with grid markings that might hint at an early form of chess, as well as dice cubes with six sides and spots, suggesting they might have been the inventors of dice games. This initial interpretation painted a picture of a society where children and leisure activities played a significant role. However, as further research and discoveries unfolded, this assumption evolved, revealing the multifaceted nature of the Indus Valley Civilization, where play and leisure were just one facet of their complex society.
37. The Mysterious Decline of the Indus Valley Civilization
The fate of the inhabitants of the Indus Valley civilization remains a historical enigma. While numerous theories abound regarding their demise, scholars concur on one crucial aspect – it was not a swift invasion, a devastating disease outbreak, or a catastrophic event that led to the civilization's decline. Rather, these once-thriving cities gradually witnessed a dwindling population until they were ultimately abandoned. A prevailing belief suggests that the inhabitants might have embarked on migrations to seek more favorable lands and resources in different regions. The decline of the Indus Valley civilization is a multifaceted phenomenon with various factors contributing to its unraveling.
38. The Enigmatic Purpose of Indus Valley Seals
Among the archaeological finds from the Indus Valley are over 4,000 flat, rectangular stone tablets known as seals. These seals, composed of at least a dozen different materials, display intricate images of animals, god-like figures, and inscriptions. While it is evident that some of these seals were used for stamping clay on trade goods, their precise purpose remains shrouded in mystery. The challenge of deciphering the inscriptions on these seals has further deepened the ambiguity surrounding their use.
39. The Untranslated Indus Valley Script
The Indus Valley Script presents an intriguing puzzle. More than 400 distinct symbols have been identified and inscribed on various objects, often appearing in strings of 3 to 20 symbols. Despite concerted efforts by scholars, these symbols remain undeciphered and inscrutable. This linguistic enigma represents a significant obstacle to comprehending the civilization's history. Debates persist as to whether these symbols can even be classified as a script, given the absence of any lengthy text containing more than 20 symbols. Some scholars contend that these symbols may solely represent names rather than conveying substantive meanings, while computer analysis suggests they combine sounds and concepts, akin to Egyptian Hieroglyphs.
40. Dholavira's Water Management for Dry Seasons
Cities like Dholavira ingeniously constructed dams to control water flow, enabling the storage of water in vast reservoirs. This strategic water management served dual purposes: protecting the city from floods and ensuring a year-round water supply for irrigation and domestic needs. Dholavira featured 16 such reservoirs, emphasizing the civilization's commitment to sustainable living and adaptability to climatic challenges.
41. Multi-storeyed houses with Courtyards
The architectural prowess of the Indus Valley Civilization extended to the construction of multi-storeyed houses, some of which reached impressive heights of up to three stories. What distinguished these residences was their incorporation of central courtyards and accessible flat terraces. This architectural innovation exemplified their advanced understanding of urban planning and the art of harmonizing living spaces with design aesthetics. These multi-storeyed houses were a testament to their sophistication in urban living.
42. Pioneers of Luxury: Attached Bathrooms with Flush Toilets
In a remarkable display of engineering ingenuity, many homes in the Indus Valley Civilization boasted the luxury of attached bathrooms. These bathrooms were not only equipped with access to running water but also featured sophisticated drainage systems. Perhaps even more astonishing, the civilization had developed flush toilets, a technological feat that predated similar inventions by centuries. This achievement underscored their advanced sanitation practices and their commitment to enhancing the quality of daily life.
43. Expertise in Water Management
The Indus Valley Civilization demonstrated exceptional proficiency in water management. The city of Mohenjo-Daro, for instance, boasted an advanced water distribution system that included 80 public toilets, over 700 wells, and individual bathrooms within houses. Rainwater harvesting systems were prevalent, and the iconic Great Bath, though its exact purpose remains a subject of debate, stood as a testament to their architectural acumen. The Great Bath, along with other water features, may have had a role in religious or communal bathing rituals, further highlighting the civilization's reverence for water.
44. Emphasis on Hygiene
Hygiene held a central place in the lives of the Indus Valley Civilization's inhabitants. This commitment was evident in various ways, such as the provision of personal and public baths, the creation of stormwater runoff channels, the development of underground wastewater disposal systems, and the strategic placement of brick containers for efficient garbage disposal in Mohenjo-Daro. These conscientious measures underscored their dedication to a clean and healthy way of life, showcasing their sophisticated understanding of urban planning and sanitation.
45. Pioneers of Maritime Trade: World's Earliest Dockyards
Lothal, a prominent city within the Indus Valley Civilization, stood as a testament to their pioneering spirit in maritime trade. It featured the world's earliest known dockyard, a remarkable engineering achievement. This expansive dock, spanning 37 meters from east to west and nearly 22 meters from north to south, connected Lothal to the Sabarmati river—a crucial trade route linking Harappan cities in Sindh to the Saurashtra peninsula. This evidence of advanced dockyards and other major port cities like Balakot, Suktagendor, and Allahdin provide valuable insights into the civilization's extensive maritime trade network. Their mastery of seafaring and trade routes played a pivotal role in shaping their economy and interactions with distant lands, further highlighting their advanced civilization.
46. Potential Connection with Mesopotamia
The original name used by the Indus Valley people to refer to themselves remains unknown. However, Mesopotamian scribes have mentioned a distant place called "Meluhha" in their writings. Archaeological evidence indicates long-standing trade relations between the Indus Valley civilization and Mesopotamia. It is plausible that "Meluhha" corresponds to the Indus Valley Civilization.
47. Pioneers in Testing Gold Purity
Archaeological findings in Banawali uncovered a touchstone bearing gold streaks, likely employed for testing the purity of gold. This technique, which persisted in some regions of India, marks the Indus Valley as an early practitioner of gold purity assessment.
48. First to Domesticated Cotton
The earliest traces of cotton use date back to the sixth millennium BC in Mehrgarh, Pakistan. The people of the Indus Valley and the Gaggar-Hakra river valleys were pioneers in industrial-scale cotton production. Cotton textiles became a major export commodity, significantly contributing to the growth of trade and the economy within the civilization.
49. Invention of Buttons
In a remarkable development, the Indus Valley Civilization is credited with the invention of the world's first buttons. These early buttons, made from seashells, initially served ornamental purposes rather than functional fastening. Archaeological evidence suggests that these buttons, characterized by geometric shapes and perforations for attaching them to clothing with thread, appeared around 2800–2600 BCE.
50. World's Oldest Signboard
A significant archaeological find in 1999 at Dholavira uncovered what appears to be the world's earliest signboard. This board featured stone symbols or letters, each standing over 30 centimeters in height, set within a wooden frame. As the Indus script remains undeciphered, the precise meaning of these symbols is still a mystery. Nonetheless, it is believed that this monumental artifact adorned the facade of the majestic north gate of the city's citadel, showcasing the civilization's sophistication in communication.
51. Enthusiasm for Games, Including Dice
The Harappan people exhibited a keen interest in games, including the use of cubical dice, some featuring one to six holes on their faces, found in archaeological sites like Mohenjo-Daro. These dice provide insights into their recreational activities. In addition to dice, the Harappans crafted various toys, from miniature bullock carts and pots to spinning tops and marbles. This suggests that playfulness was not limited to children but extended to adults as well.
52. Advanced Art and Craft
The art and craft of the Harappan civilization reached an unprecedented level of sophistication for its time. Their mastery is evident in a wide range of artifacts, including ceramic and terracotta pottery, bronze and copper items, and intricate bead-making. Notably, the bronze Dancing Girl statuette, discovered by British archaeologist Sir John Marshall, challenged conventional timelines by predating Greek sculptures by thousands of years. This exemplifies the exceptional artistic and crafting skills of the Indus Valley people, whose contributions have left a lasting legacy in the annals of history.
53. Rakhigarhi: The Largest Harappan Site
Rakhigarhi stands as the largest known Harappan site, boasting an expansive area covering 550 hectares. This seemingly unremarkable village's significance lies in its sheer size, which surpasses even the renowned Mohenjo Daro site, previously considered the largest among Harappan sites. This revelation underscores the scale and complexity of the ancient Indus Valley Civilization.
54. Bhirrana: The Oldest Harappan Site in Haryana
Bhirrana, located on the banks of the Ghaggar river in Haryana's Fatehabad district, now holds the distinction of being the oldest discovered site of the Indus Valley Civilization. Remarkably, some of the oldest mounds at Bhirrana date back to 7500 B.C.E., offering a window into the ancient history of this remarkable civilization.
55. Repetitive City Construction and Grid Planning
Over a span of 800 to 1000 years, Harappan cities were repeatedly constructed due to various factors like floods and silt deposition. Intriguingly, with each reconstruction, they adhered to the same grid pattern. Mohenjo-Daro, for instance, was rebuilt at least nine times, each layer atop the previous one. This demonstrates the civilization's deep understanding of grid planning and its remarkable standardization in urban design.
56. Architectural Features: Granaries, Citadels, Burial Grounds, and Bathing Platforms
Across all Indus Valley sites, the presence of granaries, citadels, burial grounds, and bathing platforms has been confirmed. Notably, the granaries exhibited advanced design, featuring air passages to maintain grain dryness—a level of sophistication not seen until Roman brick granaries, more than two millennia later.
57. Exceptional Standardization
The Harappan civilization stands out for its extraordinary level of standardization, a characteristic that distinguishes it from many other ancient civilizations. What is truly remarkable is that the cities discovered from this civilization displayed a striking similarity in their layout and construction techniques. This consistent adherence to a uniform plan and design extended even to the dimensions of the bricks used in the construction of houses and buildings. What makes this achievement even more fascinating is that it was achieved without clear evidence of a centralized authority governing these practices. Despite the absence of a central governing body, the Indus Valley Civilization managed to attain an unprecedented degree of standardization, demonstrating their advanced organizational skills and societal cohesion.
58. Advanced Engineering and Hygiene
The Indus Valley Civilization was renowned for its sophistication and technical advancements. Their cities, notably Harappa and Mohenjo-Daro, were architectural marvels of their time. These cities were constructed using baked bricks, often arranged in dense clusters. Remarkably, some houses were strategically designed to catch the wind, providing a form of natural air conditioning—an innovation far ahead of its time. Furthermore, these ancient inhabitants boasted a rudimentary form of flushing toilets within their homes, showcasing their concern for hygiene.
What truly sets this civilization apart is its sanitation system, potentially the world's first. Homes were connected to a centralized drainage system, using gravity to efficiently manage waste—a system that would become the standard in 18th-century Europe. The sewage and drainage systems of the Indus Valley Civilization were more advanced and efficient than those of many contemporary urban cities, including some in the Middle East and South Asia. This hints at a sophisticated governing structure, despite the absence of a monarchy, with various rulers governing different states.
59. The Enigmatic Great Bath
In contrast to other ancient civilizations where grand structures were typically temples or monuments, the Indus Valley Civilization boasted an intriguing public bath in Mohenjo-Daro known as "The Great Bath." This structure measured an impressive 11 meters by 7 meters and had a depth of 2.5 meters. Two wide staircases served as entrances to the pool, and a drainage hole was situated at one end. The bath's walls were meticulously constructed with finely fitted bricks and mud sealed with gypsum plaster, rendering them waterproof.
The precise purpose of The Great Bath remains a subject of debate among historians. Many speculate that it was employed for ritualistic purposes, similar to purification rituals still practiced among Hindus, Jains, and Buddhists, suggesting a belief in the spiritual cleansing power of water. Facts And Artefacts Indus Valley Civilis: Cooke, Tim
60. Linguistic Mysteries
One of the enduring mysteries of the Indus Valley Civilization pertains to its language. Despite extensive archaeological findings, deciphering the script and language of this ancient civilization has proven to be a formidable challenge. Some scholars have proposed potential connections to Vedic scripts, raising questions about linguistic continuity in the Indian subcontinent. However, the absence of comprehensive linguistic evidence has left researchers with more questions than answers. This linguistic enigma adds to the allure and intrigue surrounding the Indus Valley Civilization, providing an ongoing avenue for further exploration and discovery. As archaeologists and linguists continue their efforts to unlock the secrets of this ancient culture, the quest to unveil its linguistic heritage remains a tantalizing and elusive endeavor in the realm of historical research.
61. The Enigma of the Indus Valley Civilization's Decline
The Indus Valley Civilization, after flourishing for thousands of years, faced a mysterious decline around 1800 BCE, with people gradually abandoning their cities. The exact cause of this decline remains an enigma, with various theories proposed. Some suggest that a lack of military strategies left them vulnerable to invasion by the Indo-European Aryans from Central Asia. Others believe that a large-scale drought, followed by a decline in trade with Egypt and Mesopotamia, could have been contributing factors.
Additionally, theories of a massive earthquake altering river courses and forcing migration elsewhere, deforestation, tuberculosis, and floods have been considered. However, the civilization did not vanish entirely; signs suggest that it assimilated with other cultures, leaving its imprint on subsequent civilizations. Archaeological findings indicate a shift in demographics towards eastern sites, with many speculating that their descendants may be among the modern-day populations of India and Pakistan, blending with other ethnicities to form the rich tapestry of South Asian culture and history.
The Indus Valley Civilization: Final Thought
The Indus Valley Civilization, often referred to as the Bronze Age civilization, was a remarkable ancient civilization that stretched across the regions of modern-day Afghanistan, Pakistan, and the northwest part of India. In antiquity, it held a prestigious place as one of the three major civilizations in the world, alongside Egypt and Mesopotamia. This civilization boasted an extensive history, categorized into three distinct time periods: the Mature Harappan period (2600-1900 BCE), the Early Harappan period (3300-2600 BCE), and the Late Harappan period (1900-1300 BCE). Interestingly, the first city discovered by archaeologists was Harappa, giving rise to the nomenclature of these eras.