(Last Updated On: September 12, 2023)
In Nigeria, a nation of over 200 million people, an intricate tapestry of tribes and cultures has thrived for centuries. The diverse landscape of Nigeria, with its pre-existing cultures, unites to form a dynamic nation with a jollof rice recipe for Nigerian culture. Every October 1st, on Independence Day, Nigerians come together, reflecting their unity. Moreover, festivals like the Lagos Festac and the Cross River State's Calabar International Carnival exemplify the communal spirit of the people.
Yet, among the myriad elements that compose Nigerian identity, one universally celebrated aspect is its cuisine. Nigerian food is as diverse as its people, with geographical regions significantly influencing culinary traditions. Unlike some places where food is dictated by weather or time, in Nigeria, it all boils down to taste.
A Culinary Art in Nigeria
For Nigerians, food is a form of art, meticulously prepared to tantalize the taste buds. Meals are an elaborate affair, filled with flavors and color. Take, for instance, the well-loved noodles. In Nigeria, they are considered perfectly cooked when they're accompanied by a saucy blend of fried tomatoes, green peas, and carrots, each bite radiating joy.
The ingredients used in Nigerian cuisine are a reflection of the communities inhabiting different regions. The richness of Nigerian dishes transcends boundaries and, as a result, a Hausa meal from Kano might have similarities to a Yoruba dish in Lagos, showcasing the diversity of food culture.
A Culinary Icon: Jollof Rice
If there's one dish that unites Nigeria, it's Jollof rice. When visiting Nigeria, one might argue that tasting Jollof rice is an essential cultural rite, regardless of your tribe or culture. It stands as a staple food, cherished by all, along with the jollof rice recipe in Nigerian dishes. Home and Kitchen Appliances Latest on Amazon.
This iconic dish traces its roots to Senegal, in the heart of Oluf. Over time, it has traveled across the continent, capturing hearts and palates. However, the specifics of Jollof rice vary from chef to chef. Preparation techniques often depend on individual preferences, like the amount of steam the pot endures or the rice-to-liquid ratio.
Ingredients for Nigerian Jollof Rice:
2.5 cups of white rice (Basmati)
1.5 cups of vegetable stock
2-4 cubes of Maggi (vegetable or chicken)
12 oz of frozen vegetables (bagged)
2 yellow onions
28 oz of diced tomatoes
6 oz of tomato paste
1/3 cup of vegetable oil (plus additional for cooking)
1 piece of fresh ginger (1″ in size)
1 habanero pepper
2 tsp of garlic powder
Salt (to taste)
Pepper (to taste)
Preparation Method for Nigerian Jollof Rice:
Begin by preparing the tomato stew.
If you opt for a whole chicken, clean it and cut it into pieces. Cook it with thyme, sliced onions, and seasoning cubes. The cooking time varies depending on the type of chicken. Cock or local chicken cooks faster than regular chicken but offers distinct flavors. Once cooked, grill or fry the chicken to give it a golden, appealing look.
Rinse the parboiled rice and allow it to drain in a sieve.
In a large pot, combine the chicken stock and tomato stew. Heat until it starts to boil.
Now, add the drained parboiled rice, along with curry powder, salt, and pepper for an enhanced flavor. The water level should be the same as the rice. Ensure all the water is absorbed during cooking.
Cook the rice over low to medium heat, covered, to prevent burning. The rice is done when it's dry. To confirm, taste it. If it's not ready, add more water and reduce the heat to prevent burning. Continue cooking until done.
Serve the Jollof rice hot, accompanied by choices like Moi Moi, salad, coleslaw, or fried plantain. For the perfect finale, enjoy it with a refreshing cold drink.
In Nigeria, embracing Ankara and Bubba attire while savoring local delicacies like Jollof rice allows you to fully immerse yourself in the culture. By tasting Nigeria, you don't just see it; you experience it.
Jollof Rice: A Love Affair with a Staple Dish
Let me share a little secret with you—Rice holds a special place in my heart. If I had it my way, I'd eat rice for breakfast, lunch, and dinner, every single day, and still crave more. It's not just my personal preference; rice is practically a lifeline when you're raising a household full of kids, just like my own bustling home. I've got kids of all ages under my roof, and guess what? Rice is the one dish they all clamor for.
Let's Talk Jollof Rice
Now, let's dive into the heart of the matter—the Jollof Rice recipe in Nigerian heritage. If you've ever attended a West African party or paid a visit to friends and family, chances are you've encountered this delectable dish. Picture lively gatherings, joyful banter, and infectious music—Jollof Rice plays a starring role, making its entrance in generous pans, evoking laughter and delight.
The Ingredients That Define Jollof Rice
Jollof Rice is a culinary masterpiece with a few key players: rice, tomatoes, tomato paste, vegetables, and an array of spices. But here's the thing—if your version doesn't include these core ingredients, it's not considered the real deal.
The Rice Choices
When it comes to rice, you've got options. The canvas for Jollof Rice can be painted with long-grain rice, basmati, or even fragrant jasmine rice. It's all about your personal taste.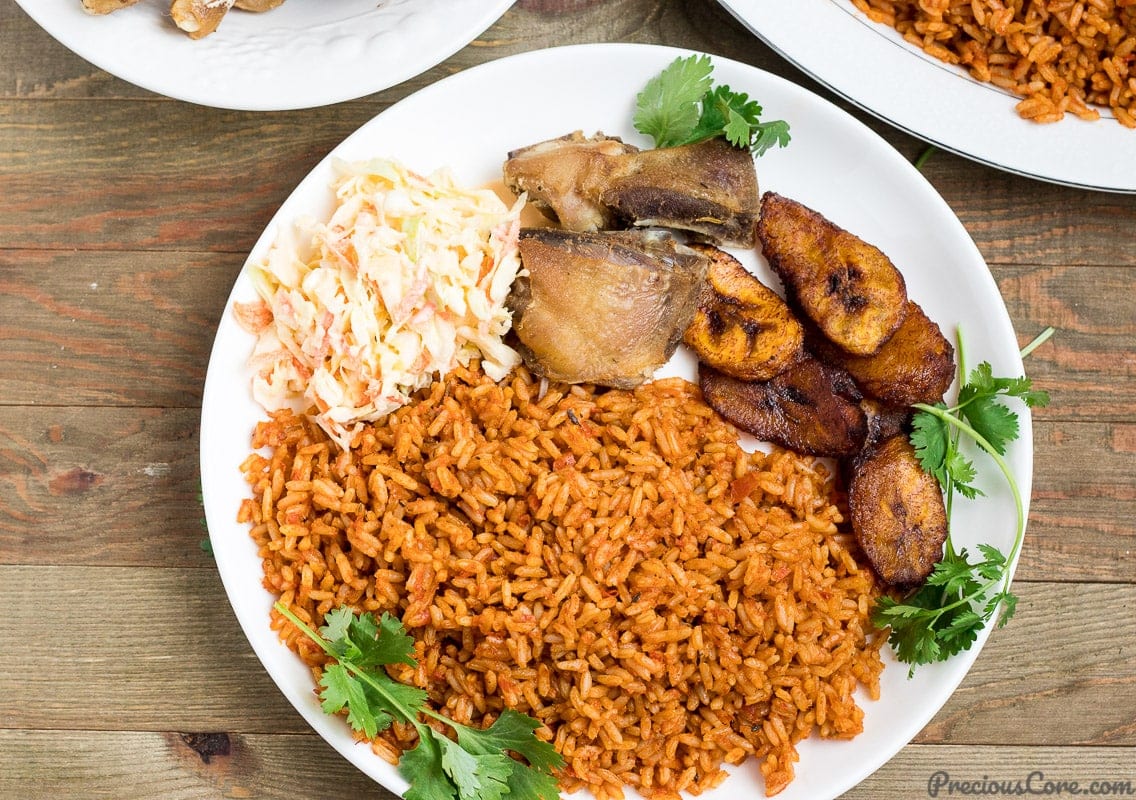 Nigerian vs. Ghanaian Jollof: The Never-Ending Debate
Much like the ongoing debate over tacos in Mexico, there's a friendly rivalry between Nigerian and Ghanaian Jollof. Which is better? Well, that's entirely up to your palate. Each version boasts its unique charm.
Secrets to Crafting the Perfect Jollof Rice
Now, let's spill the beans on making Jollof Rice that'll have your taste buds doing a happy dance:
The Rice Choice: If you prefer a softer texture, consider using basmati or jasmine rice.
The Boil Technique: Start by bringing the rice to a vigorous boil before reducing the heat and covering. This ensures your rice won't end up mushy.
Keep That Lid On Once you've got the lid on, resist the urge to lift it repeatedly. You want to trap that steam inside for the perfect Jollof Rice.
Course: Side Dish. Cuisine: African
How to Make It:
Creating the Onion Paste:
Blend 1 ½ of your onions, vegetable oil, ginger, and habanero pepper until you have a smooth paste. Transfer this mixture to a medium-sized bowl.
Combining with Tomatoes:
Blend the diced tomatoes until smooth, then add them to the bowl with the onion paste. Mix until thoroughly combined.
Cook this blended tomato/onion mix until it starts cooking.
Adding the Rice:
Now, add the rice and vegetable stock. Cook on high until it begins to simmer.
Reduce the heat to the lowest setting and cover with a lid. Cook for a total of 20-25 minutes.
Incorporating the Vegetables:
After simmering for about 10 minutes, stir in the vegetables until well combined. Cover and cook for an additional 15 minutes. Home and Kitchen Appliances Latest on Amazon.
Remove from heat and serve while piping hot.
There you have it—a mouthwatering plate of Jollof Rice ready to delight your senses. Enjoy!
A Unifying Dish in Times of Rising Food Costs
In these times of escalating food prices, there's something incredibly beautiful about having a go-to dish that everyone in the family agrees upon. No disputes, no grumbling—just pure satisfaction with the jollof rice recipe in Nigerian tradition. It's the kind of harmony you cherish when feeding a brood like mine.
More Interesting Articles